Nadia Cakes Review
Wednesday, March 23, 2016

Trying to follow a diet can kinda suck. Scratch that--diets SUCK. Like many others, during the beginning of the New Year I vowed to be done with treats forever. I threw away the doughnuts, cakes, and sugary treats I had hidden in my bedroom and pantry and said 'Adieu' to the Lindt chocolates that I had received for Christmas.

After a couple of weeks without sugar I began (like many others do) to go insane. I started fantasizing about rolls, cupcakes, and danishes. Fortunately in the 21st century, it can be pretty easy to find a way to imagine you are eating a doughy pastry without feeling the repercussions the next day on your hips. Naturally this meant binge watching Food Network and watching Cupcake Wars and Holiday Baking Championship.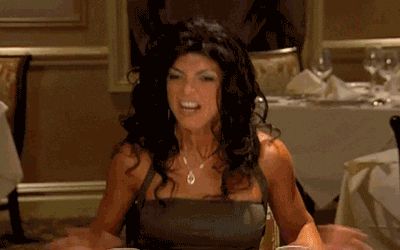 This is me if I haven't had enough sugary goodness in my life
Throughout my binge watching I was impressed with one contestant on the Holiday Baking Championship for her awesome attitude and wacky creations- Erin Campbe. I wouldn't say that watching Erin's creations on TV were to blame for my diet 'failing', but I would say that it played a factor into deciding to add sugar goodness, such as awesome funky cupcakes, back into my life. If someone could be so happy making cupcakes and eating (what looked like) awesome creations why couldn't I?
Needless to say, the diet didn't go so well and last week I ended up at the doors of Nadia Cakes in Woodbury Minnesota. To say that I had been patiently waiting to go to this store was an understatement. I followed the quirky and wacky creations on Facebook, had heard of the raving reviews from friends on the stores endless options, and had dreamed about the day that I could finally get my hands on one of these highly coveted cakes.
Decorated in pink decals, the store could be described as a modern day Laduree. The cupcakes are arranged delicately, with a glass chandelier hovering over the cakes making you feel as if the pastry gods crafted the cakes themselves. And they pretty much taste like they have been personally crafted by God himself. If the witty designs and flavor combinations don't get to you, then the taste of these cakes will. With each cake having their own filling int he middle, you'll never have to worry again about eating a dry cupcake. The frosting is just right- not too heavy or too sweet and the decorations make the cakes almost sinful to bite into.
For more information on Nadia Cakes please visit their
website
. This is not a promotional blog post.
Have you been to Nadia Cakes? If so- what was your favorite one?
Cupcake #1) Lemon Drop
Cupcake #2) Cookie Monster with Cookies and Creme filling
Until next time,